With so much talk on falling numbers in golf, it is important to not only look at current players, but those of the future, junior golf. People fill there days at such a pace, when it comes to golf, trying to squeeze a round in may become impossible. But golf can also be seen from another angle when we look at juniors coming into the game.
If life is so busy, then taking your child out for a round could actually be a great time to spend together. How many sports actually allow a parent and child to play together, or even compete. Socially there would be a few, but certainly not many in competition. This is where golf has a niche.
It is important that juniors are introduced to the game. I wish this had been the case much earlier for me (I didn't really start until around thirteen). Starting out in golf at an earlier age allows the skills of playing to be carried on into adult life, which can have many advantages. There is a whole new social circle or for down the track used as a business tool. This can be a great investment.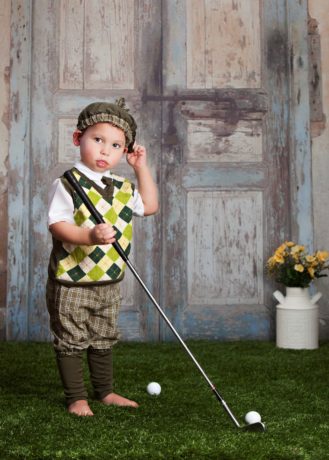 More importantly though it allows bonding with your family. Yes why not take the whole family out for a game. How often could you spend a few hours together playing sport, getting fresh air and getting spending time together.
Many years ago I thought it a good idea to get my son interested in golf. One of the main reasons was to get him off the computer and out doors. At first we started with the driving range, just so he would be used to hitting the ball. Slowly impatience grew and we had to play on an actual course. This started off well, but there were ulterior motives for his interest. As for most young boys are, the desire to drive. Yes the only real reason for his interest was to drive the golf cart, not play golf. At first there was a compromise, every few games we would use the cart, otherwise walk nine holes. Unfortunately this was a short lived exercise, although ten years later he is interested again.
This all came to mind when I recently played at Albert Park Golf Course, in the Melbourne CBD. I saw many signs advertising US Kids Golf. Having heard of this as a manufacturer of kids golf equipment, I was surprised to learn they also hold events for aspiring kids to play golf, whether just starting out or playing a tournament. I was extremely impressed with the setup. From learning on the putting green through to tee markers setup on holes, shortening the length according to suitability of the player. They even had caddie bibs for the parents who were accompanying the kids, most dressed like Ricky Fowler, around the course. Yes most clubs foster a junior development program, but this was for those not within a club system.
Good to see there are those out there trying to ensure a future generation will still take up the art of hitting a little white ball around a paddock into a hole. Good luck to those in junior golf.