With the new year comes the new rankings, Golf Australia 2018 Top 100 golf courses released this month. I read this with great interest now, due to becoming a panel member last year. Having played around 60 courses during the previous 2 years, it becomes interesting to see how some of your ratings stack up with the finished product.
There are a few new entries, with the highest being Ocean Dunes on King Island. This was not unexpected with such magnificent land for golf, along with another great course in Cape Wickham, making the trip even more worthwhile to this remote location. I was surprised however by The Eastern Golf Club ranking so high. Big drainage issues and what still seemed in areas like a construction zone did not outweigh some intelligent design and routing in my opinion.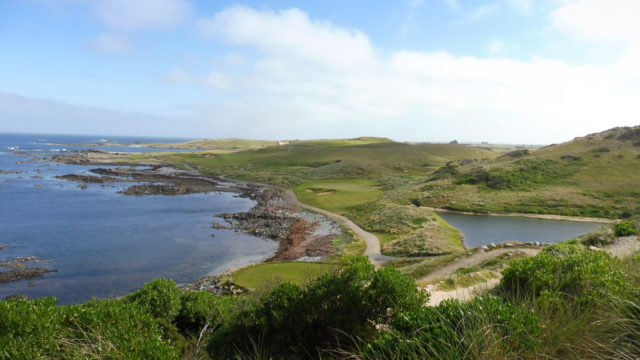 View down to the 10th hole at Ocean Dunes
One of my new goals, complete the Golf Australia magazine 2018 list by 2020. Not too big an effort considering I only have 9 courses to play. Funnily enough the same number remaining from the 2016 list. Lucky those that fell out, were replaced by three already completed, Ocean Dunes and The Eastern South and North courses.
Make sure you buy this months edition of Golf Australia magazine to view the whole list. Sure there will be controversies and discussion, as there always are.