Wow this year is going so fast, that I have just realised I have not given a progress update for a while. Nor put many reviews of the courses played. So for those who do ask where is the write up on some of the recently played courses, they are coming.
So starting the year with 91 played, I haven't actually progressed too far. Currently standing at 95 played, the final countdown is certainly on.
This year was aimed at getting courses played whenever possible. So far this year they are:
1. Sorrento Golf Club
2. Riversdale Golf Club
3. Ellerston Golf Course
4. Links Lady Bay
A special thanks must go out to a couple of people who have assisted with Riversdale and Ellerston. I won't name them but they know who they are. Without their help this would be an almost impossible task.
Don't think there hasn't been much golf played with only four courses checked off the list. I have also revisited a few courses this year, in particular those on the Melbourne Sandbelt:
1. Kingston Heath
2. Metropolitan Golf Club
3. Victoria Golf Club
4. Commonwealth Golf Club
5. Royal Melbourne Golf Club – West Course
6. Newcastle Golf Club
7. The National Golf Club – Ocean Course
8. Terrey Hills Country Club
The move to Victoria has reaped rewards. Access to some of the best courses in the country is much easier than in NSW. There are plenty of Open or Charity days, where those on the Melbourne Sandbelt open the doors. Yes you may pay that little bit extra, but it is well worth the money.
A visit to Flinders Golf Club (part of the Top 100 public courses) and all three courses at The Eastern Golf Club, which may find its way into the 2018 list, have also been made.
I also say goodbye this month to a close friend who has played around 20 courses with me on this quest. JB moved over from the UK almost 10 years ago, but has finally decided to move back to start his own new adventures. He will be missed, but I look forward to visiting in a few years time, where we can play a few links and catch up over a pint or two.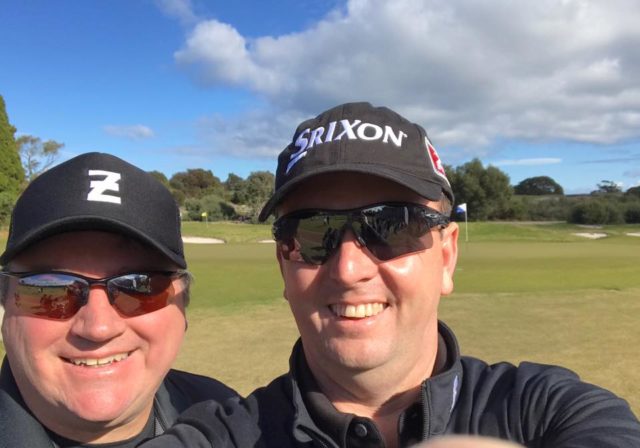 With only five courses remaining, the challenge is on to complete the 100 before a new list is released in 2018. This will see trips to three states, Queensland (Brisbane GC, Indooroopilly GC West, Pacific Harbour), NSW (Bonnie Doon) and lastly Tasmania, where I hope to complete the list at Cape Wickham. The plan is to finish at Cape Wickham in November so the finish line is near, as long as everything goes to schedule.
Hope to see you on the course somewhere along my travels. Happy golfing.