What a year 2017 was. Lots of golf and dreams achieved.
Starting the year with 91 played on the Australian Golf Digest List, progress accelerated in the first half. Almost came to a grinding halt during the middle, but finished with a flurry.
The nine courses played to complete the 2016 Top 100 List by November 2017 were:
1. Sorrento Golf Club
2. Riversdale Golf Club
3. Ellerston Golf Course
4. Links Lady Bay
5. Bonnie Doon Golf Club
6. Pacific Harbour Golf & Country Club
7. Indooroopilly Golf Club (West Course)
8. Brisbane Golf Club
9. Cape Wickham Links
A special thanks must go out to a couple of people who have assisted with Riversdale and Ellerston. I won't name them but they know who they are. Without their help this would be an almost impossible task.
When playing in Brisbane during November, I managed to complete the Australian Gold Digest 2014 Top 100 list. Within the space of a week, this saw two lists completed. A few new friends were along for the ride at a couple of the courses, including Tony Webeck from Golf Digest magazine, present for the final round.
Myself, Tony and Mark at Pacific Harbour Golf & Country Club
There were also plenty of top 100 courses revisited throughout the year, in particular those on the Melbourne Sandbelt:
1. Kingston Heath
2. Metropolitan Golf Club
3. Victoria Golf Club
4. Commonwealth Golf Club
5. Royal Melbourne Golf Club – West Course
6. Newcastle Golf Club
7. The National Golf Club – Ocean Course
8. Terrey Hills Country Club
9. The Lakes Golf Club
10. RACV Healesville
11. Yering Meadows Nursery
12. Portsea Golf Club
13. Woodlands Golf Club
14. Royal Queensland Golf Club
These helped in updating some of the course reviews, or even completing them, having not been done after the first visit.
Along with those listed above, there were also a few visits to courses listed in other Top 100 lists, or set to make their debut during 2018. Some of these were Flinders Golf Club (part of the Top 100 public courses), all three courses at The Eastern Golf Club, Mount Compass Golf Club, as well as Ocean Dunes on King Island, sure to find its way to the top of all Australian ranking lists.
Hosting Slicey Tysie and Mark for a week is another highlight worth noting. Aiming to complete the Australian Top 100 himself, currently at 76, we managed to play a few rounds together, completing a few unplayed courses. Always a pleasure getting together with other Top 100 enthusiasts. Hoping to visit Slicey Tysie in the coming years to replay the new version of Royal Canberra.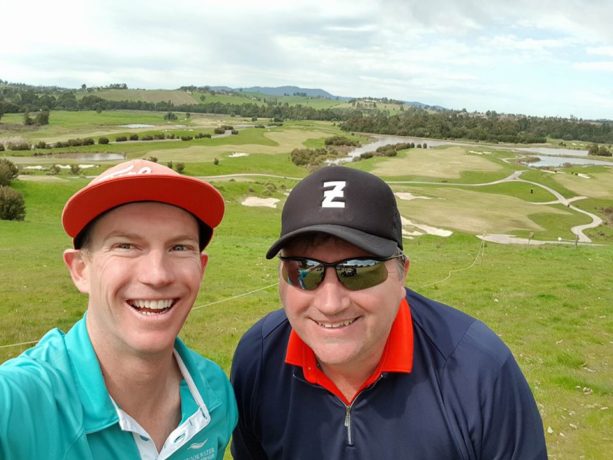 Slicey Tysie and myself at Heritage Golf and Country Club Henley course
Another major development was becoming a panellist with Golf Australia Magazine. I feel privileged to have been asked to join, especially with all of the effort taken in playing Australia's Top 100 golf courses. Although not a part of my original plan, it was certainly something that could not be refused. So now along with completing future lists, I will be returning to some courses to help established their natural place within the rankings. As of now, seven courses have been visited for the 2020 ranking period.
Oh and by the way, my friend who moved to the UK, came back after three months. Guess he still calls Australia home, and I can still call him my golfing buddy. Glad to have you back JB.
So it was quite a remarkable twelve months. Hope you all had a great golfing year. Let the fun begin for 2018.