B
een a while since my last quarterly update, but better late than never. Starting to get closer now to another major target, after playing 86 courses of my Aussie Golf Quest playing the nations Top 100 Golf Courses. That makes 14 played this year with another 5 to go, reaching my target of 91 played by years end.
The Cut Golf Club – 16th Hole
The new Golf Digest list was a slight stumble but I am definitely on track to hopefully reach 100 before the next Top 100 list is released, which will all be dependent on accessing two of the most hardest to access. I've mentioned before there are three courses in Australia which are hard to gain access, The Grand Golf Club, Royal Sydney Golf Club and the daddy of them all Ellerston. Fortunately The Grand Golf Club held an open day not long after my last update, so I didn't hesitate to make last minute arrangements getting to the Gold Coast.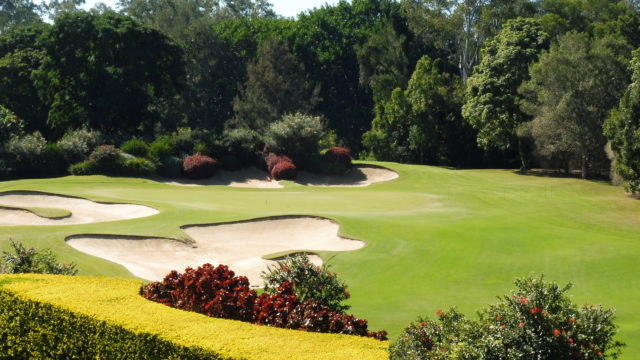 The Grand Golf Club – 19th Hole
Since the last update I have managed to play at:
Meadow Springs Golf & Country Club
The Cut Golf Links
Kalgoorlie Golf Club
Horsham Golf Club
There were a few clubs revisited, allowing some earlier reviews which were missed to find their way on to the site:
Kalgoorlie Golf Club – 16th Hole
One of the standouts has been Kalgoorlie Golf Club. Quite a task to get to, especially from the east coast, but well worth the effort. Seeing rolls of green fairway along the red dirt, creates a stunning look. Desert golf is amazing, so much in fact that Alice Springs has been pushed up the order (also getting there when it isn't too hot and wet).
So the remainder of the year I aim to visit the following five courses:
Alice Springs Golf Club
Royal Sydney Golf Club
Cranbourne Golf Club
Capricorn Resort Championship Course
Sorrento Golf Club
From there it will really be a frantic dash to complete the last nine courses, covering five states, before the next list in March/April 2018 is released.