The Story of my Adventure to play Australia's Top 100 Golf Courses
In the Beginning:
Having a slightly nomadic upbringing, I remember vividly playing my first round in south western Sydney. Those were the days, so much innocence and not a care in the world. I became a little obsessed with the game. Everyone wanted to be the Great White Shark (minus the bad luck with finishing, especially in the majors). Starting like most people, with a half-set of hand me down clubs, I clearly remember being excited the day I got my own first full set of Carnegie Clarks. I was hitting the fairways at any chance I got with mates.
A competitive streak started when I joined a local social club, venturing out past the regular courses that were normally played. This I guess first started my interest to venture out to further playing grounds. Being tested with new challenges that each course could offer. I joined my first real golf club with a good friend, at Antill Park Golf Club. A little track in the middle of nowhere, well it was when you had to get your parents to take you all the time as it was a one hour trip by car. Here we won our first competition, a 4 ball Ambrose event. The two older members we played with could not believe their luck, two young junior members adding such value to their team, handicap plus making some good shots.
Anyway years went by, girls came along, then family and golf became a distant memory.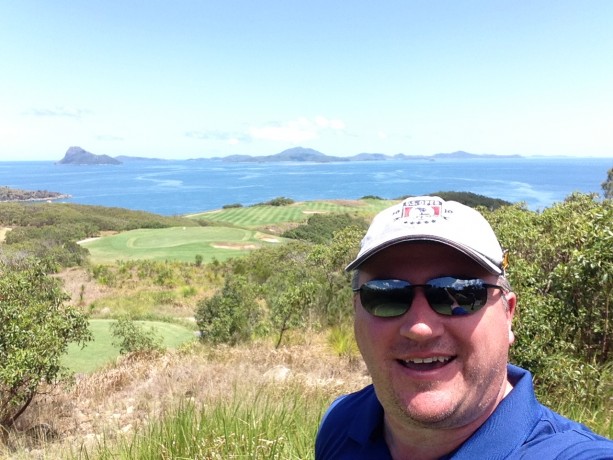 Enjoying the views of Hamilton Island Golf Club
The Resurrection:
Twenty years later, having moved almost next door to a golf club, I decided to dust off the old sticks and hit the course after being invited by now good friend, Joe. Anyway the same course was constantly being played and I needed some new challenges. This started with organising social games for my company, targeting premium courses in the Sydney area. Eventually spreading to playing whenever I traveled, (the sticks now have their own frequent flyer card).
The first goal I set, play all the Sandbelt courses. After reading so much about them and seeing them on TV for the local Majors, it was a small goal, but certainly achievable. Half way through this, the goal posts moved. Whilst reading Golf Digest, the thought occurred about playing the Top 100 courses in Australia. That was in 2008. It was a fleeting thought, but that is all it would remain, for the time being.
The Top 100 Golf Course Adventure Begins:
So here we today, getting a little bit older, I have fully committed to reaching the target set, play Australia's Top 100 courses according to Golf Digest (whatever the current list is at the time of finishing).  It was after a round at Lake Karrinyup Country Club that the chase officially started. And so the adventure began. I am determined to document my journey, inspiration came from two people, the Itinerant Golfer, now GolfTripper (A man's quest to play the top 100 courses in America) and John Sabino doing an even tougher list in the World Top 100. I will have to back date a little bit of the story though, the quest unofficially started before I knew it. Having played a few courses in Australia's Top 100 already, I don't plan to play these again unless the opportunity arise. It will be a tough challenge, hampered by distance of this vast continent, plus trying to gain access to a some of the exclusive clubs.
I am hoping to not only complete the quest, but look forward to meeting many new people along the way to share a good story with.
The Top 100 Golf Quest Concludes, Yet Still Continues:
Seven years after officially starting the quest, I have managed to complete the Australian Golf Digest Top 100 for both 2014 and 2016 within the space of a week. Indooroopilly Golf Club West course was the last played for the 2014 list, whilst Cape Wickham Links was the venue to complete the 2016 list. It was certainly an exhilarating feeling to finally reach my goal. Making this a bit more special was playing with a group, some of which had been part of the journey at various times.
So what now? It is a great question which can be partially answered quite easily. Well first a short break, a battery recharge is required. Then the next step is to complete the 2012 list, with only three courses to play, then complete any new list from 2018 on. From now this should hopefully be a relatively easy task to complete future lists. Usually around ten changes will occur, so covering these within a two year period should be quite reasonable. I am now also completing the Golf Australia Magazine Top 100. Being so close to completing the 100 it seems crazy not to.
On a larger scale I may attempt the World top 100. Great consideration has gone into selecting which list to use. Finally coming to the conclusion that top100golfcourses.com is the ideal one for me. So look out World, here I come.